11 Things To Love About The Istrian Coast
18 Aug,2017 By Jagabond
I recently wrote about the hill towns of the Istrian Peninsula. That is the inland experience, but the coast has a different feel altogether. What struck me was how clean and pristine everything was, reminding me of posh resort towns in California frequented by Hollywood actors and executives. Flowers in bloom lined the streets, and upscale hotels were plentiful.
When looking back on my experiences in Croatia, the Istrian Coast adds to one of the country's best qualities…variety. Whether it be nature, nightlife, outdoor activities, history, medieval towns or beaches, Croatia is the one-stop shop for all. We spent a few days driving the coast, and I've listed my favorite experiences below.
1. Pula arena – I get it, the Romans were everywhere. The Pula arena is one of the largest and best preserved in the world. Once used for gladiator matches, it's now a venue for operas and concerts, and one of the top tourist attractions in the country. The restoration done on the arena is impressive, as in many ways it looks nicer than the Colosseum in Rome, albeit much smaller.
2. Picturesque Rovinj – Considered the jewel of the Istrian coast, Rovinj makes even the most anxious person relax. I'm not big into boating, but for some reason the view of a full harbor in a seaside town calms me. Rovinj is perfect for walking slowly, relaxing frequently, and forgetting that the outside world exists.
3. Fish pedicure – I first saw this in Malta…not sure how PETA would feel about it. Basically you stick your feet in a tub of fish, and they spend the next 30 minutes nibbling off all your dead skin. Modern medicine has yet to prove the efficacy of this treatment, but it feels tickly, weird and cool so it was worth the money.
4. Grotta Baredine – Nearby Slovenia is more known for its cave systems, but don't miss out on this one right outside Porec. The tour lasts an hour and takes you down hundreds of steps into the depths of this natural beauty. The stone formations inside are incredibly intricate, almost as if you're on-board an advanced alien spacecraft. There is even a translucent, albino amphibian species that lives here.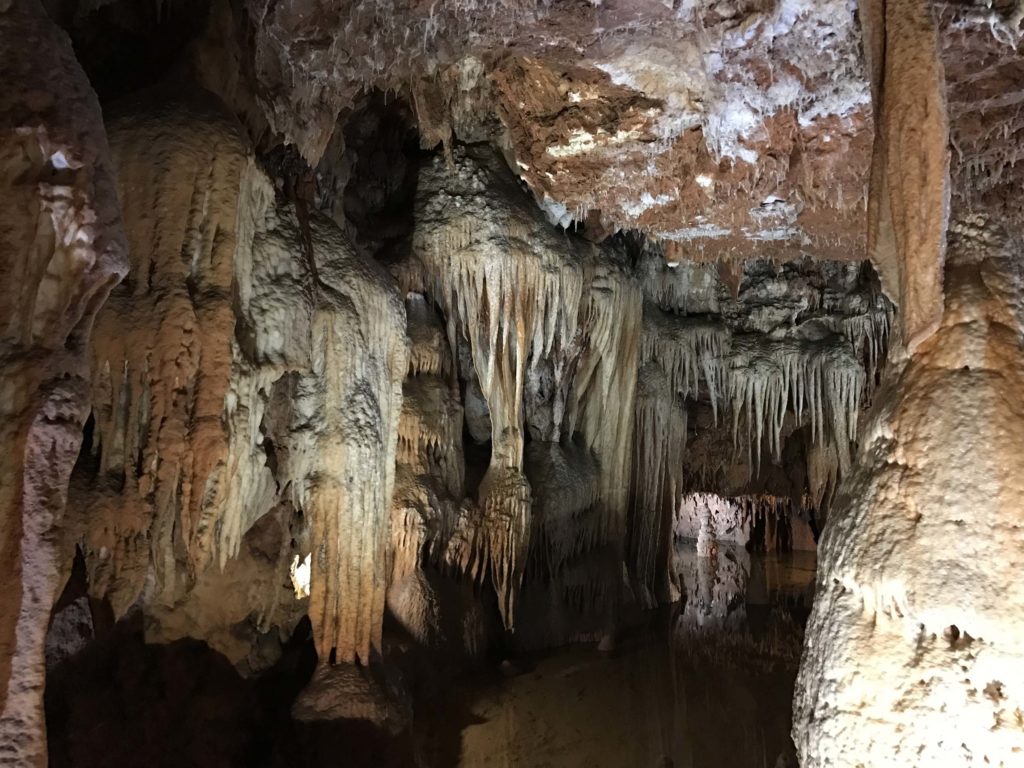 5. The umbrella mystery – Why are they there? That's what I asked a few locals while walking around Novigrad and observing the umbrellas overhead. 'They just put them there' was the general response. I came home and Googled this phenomenon, but found nothing. Mystery or not, it certainly adds a unique aesthetic quality to the streets.
6. Multi course meals – In the U.S. these would be the fancy restaurants turning people away for dress code violations. Here in Europe they welcome you wearing a t-shirt and board shorts. The prices are high, but the experience is worth it, as flavorful food is complemented by artsy presentation. I've learned to like the 'one small course at a time' method of dining, as you are gradually satiated, not all at one time. I recommend both Monte and Ulika, with the former recently receiving its first Michelin star.
7. War monuments – Croatia hasn't always been about truffles and sunshine. Throughout the 20th century fascism rose up at various times to wreak havoc. Some say Americans have a plethora of war memorials, but comparing per capita Croatia isn't far behind. Their respect for those who died in war for their country is evident.
8. The tractor museum – Tractors? Really? I love quirky museums like this. Not just a gimmick, they also highlighted the agricultural history of the region. They presented a thorough 'how to' of wheat threshing, and had on display more than 50 tractors, including a 1923 Fordson that was the initial model used in Istria. I sat on a tractor for the first time in my life…I have photo evidence!
9. Dalmatians – We were close to the Dalmatian Coast, so it's not surprising we saw a dalmatian on our travels. It was weird to see him hanging around the only Mexican restaurant in Rovinj, but I think one of the band members was his owner. My favorite breed of dog originated from Croatia, as if I needed more reasons to love this country.
10. Meatloaf – Porec is a very pretty town, so it might seem odd that what I remember most is the meatloaf. However, this was REALLY good meatloaf. Local cheeses and herbs spilled from the inside of the perfectly cooked meat, and the side of french fries was a nice touch. Not the kind of meal you'd expect at Konoba Aba, one of the top rated restaurants in town with a semi-classy vibe.
11. The drive – Going from town to town on the scenic coastal freeway is a sight in itself. I shot a similar video during our 2016 Spain road trip, so it looks like 'Manic Monday' is officially on our travel soundtrack!
How to get there: One major freeway links all the towns on the Istrian Peninsula. Don't rely on public transport. By renting a car you can see the coast and some of the hill towns in around three days.