How to Celebrate Christmas in Austria
10 Jan,2017 By Jagabond
"I truly believe that if we keep telling the Christmas story, singing the Christmas songs, and living the Christmas spirit, we can bring joy and happiness and peace to this world." – Norman Van Peale
When you're not with your family, deciding where to spend Christmas can be frustrating, and living the Christmas spirit can seem pointless. Most everyone has time off from work, so you feel like you have to do something with that extra time. If you're not sipping eggnog with your parents and siblings, travel is a good alternative. I met some great people while celebrating Christmas in Barcelona a few years back, and more recently experienced the German Christmas spirit in Berlin. For Christmas 2016 I settled on Austria, and this is how I spent my holiday in this wonderful and underrated country.
Innsbruck
This lovely mountain town is home to many Christmas markets, but none 'rise above' the one in Hungerburg. Located at an altitude of nearly 3000 feet, you need a cable car to get there. Your reward for taking this offbeat journey is a quaint Christmas market with astounding views of the mountain and city below. The locals I met there explained that the view was nice, but having grown up there it's not such a big deal anymore…it is for first-timers though, trust me.
The Golden Roof dominated the scene in the popular downtown market of old town Innsbruck. A previous emperor commissioned this structure built in the 1500's to celebrate his wedding…most newlyweds these days are lucky to get kitchenware from IKEA.
There were weird and creepy humanoid depictions throughout the market, though not quite as frightening as Krampus, the anti-Santa demon whose legend prevails over many Alpine towns. I don't know what was stranger, the figure itself or the four barbie dolls on its shoulder.
I don't recommend eating more than one meal a day at Christmas markets, as the food generally doesn't sit well. However, the sausage and kraut I had in downtown Innsbruck was pure magic.
How to get there: Innsbruck is located on the Brenner line that connects Italy and Austria, and the train ride is approximately two hours from both Verona and Munich. There is also an international airport here that has regular direct flights from London.
Where to stay: The Basic Hotel is situated a few blocks away from old town, thus you get a convenient location without all the late night chatter. Although they don't provide breakfast, there are multiple cafe options adjacent to the hotel.
Where to eat: Die Wilderin is located nearby the Golden Roof, and has a great selection of local beer and wine. The German bartender there was extremely pleasant and welcoming, and she recommended the goose which was incredible.
Salzburg
I previously visited Salzburg a few years back, for the 'Sound of Music' tour. This time around I shifted focus to the famous Christmas markets, and started with the most unique, the Hellbrunner market.
After a short bus ride from downtown, this market located at the Hellbrunn Castle wowed me, as it's easily one of the top markets in Europe. It had almost a country-club feel to it, though without the snobbery. There was a fancy indoor cafe, and a wine/gin lounge for those wanting something stronger than coffee. These heated inside areas allowed you to take a break from the cold and made this market one where you could literally spend hours. It seemed that the market booths were endless, and there was a nice garden area in the back to take a quiet romantic stroll. This market also wins the award for having the most Christmas trees I've ever seen.
The main downtown market wrapped around the back of the Salzburg Cathedral. After days of drinking hot wine, it was nice to try something different here…hot apple cider with whiskey! Yes, Christmas always brings out the healthiest of habits. Most markets can underwhelm with ornaments, as you end up seeing the same things over and over. This made the novel 'Buddha coconut nativity scenes' even more impressive.
There was also a skating rink nearby. I thought about it, but would've been embarrassed if the Mozart statue saw me fall.
How to get there: Also on the Brenner line, Salzburg is easily reached via two hour train ride from Munich or Innsbruck. There is an international airport that has frequent and cheap flights from Berlin.
Where to stay: For a truly unique experience book a room at the Gastehaus Priesterseminar, a hotel that also serves as a seminary school for priests.
Where to eat: How could I not recommend eating at the oldest restaurant in the world? Make a reservation at St. Peter Stiftskeller and see for yourself why this establishment has been serving food for over 1200 years!
Bad Ischl
If I could describe this town in one word, it would be 'traditional'. Where towns like Vienna and Salzburg are totally modernized, Bad Ischl has an old school atmosphere, and you can imagine life hasn't changed much here over the centuries. The local Christmas market even had a display of traditional Austrian clothing, something you never see anyone wearing in the big city.
On the theme of tradition, the cuisine here was quite different. There were the shaved radish chips that looked better than they tasted, and then a succulent filet of salmon wrapped in bacon.
Walking the town at night, the locals began congregating in an outdoor market area. Here they seemed immune to the cold as they consumed hot wine and listened to festive live music that I assumed to be indigenous to this mountain region.
If that live music wasn't enough, and you happen to be visiting Bad Ischl on a Thursday night, check out the karaoke at Augustin-Huber. I'm a sucker for this stuff, hand me a microphone and I just can't resist!
How to get there: The most direct way to get to Bad Ischl is a 90-minute bus from Salzburg. Trains also run here, but require one change in Attnang-Puchheim.
Where to stay: Hotel Goldner Ochs was lovely, well-located, and equipped with an incredible breakfast spread.
Where to eat: The Weinhaus Attwenger has traditional Austrian food (e.g. the salmon wrapped in bacon), a large selection of local wines, and amazing customer service with a few English speakers on staff.
Hallstatt
Some Europeans may compare it to Bruges, and Californians may compare it to Solvang. Visiting in off-season allows you more freedom within the town without the deluge of tourist hordes which are commonplace in the summer. Hallstatt has appeared on many 'must-see' travel lists over the years I've been wandering, and I admit to having it circled on my map for a long time now. As we approached by boat, I saw the spire of the cathedral and knew I had finally made it.
The town itself was easily walked in less than an hour, making it a perfect day trip option even during off-season. Surprisingly I still saw many tourists here, so I can only imagine how much busier it gets May-September. In hindsight they could've had more of a Christmas theme, as they have a market but it only runs for one day in December. Regardless, Hallstatt is a great place to relax at a cafe with some wine, and absorb the storybook views of the lake, mountains and swans.
How to get there: A prime reason tourists stay in Bad Ischl is for the efficiency in making a Hallstatt day trip. It's only a 20 minute train ride, then a scenic boat over the lake and into the town.
Where to stay: I didn't stay here but a few hours, though I think it would be a perfect place for an overnight trip outside of the winter months. Being a major tourist attraction, there are many options for lodging and all are within the city centre.
Where to eat: The Braugasthof is set in a historical building by the lake, and almost has the look of a German beer house on the inside. The menu is quite varied, with good options for local cuisine.
Vienna
Saving the best for last? Maybe, as it's no secret Vienna is currently my second favorite city in Europe. The locals were very smart with the placement of Christmas markets, as they chose four truly awesome locations. Definitely visit the markets, but at the same time admire these traditional Viennese landmarks.
Starting with the grand daddy of them all, the market at Schonbrunn Palace made my list of best markets in Europe. This Baroque beauty served as a summer resort for Austrian monarchs, and was later converted into a museum. As you walk into the main courtyard, the view of the palace is difficult to capture with one photo unless you stand really far back.
The market itself had some very unique items, including handmade wooden puppets, products made from buffalo horn, and a finely crafted nativity scene that may not have been historically accurate, as I don't recall the Pope being there.
Even on a near-freezing day, you must grab a cup of hot wine and walk the gardens behind the palace. Although much prettier in the spring when flowers are blooming, you can take a pleasant uphill stroll to admire the 'Gloriette' structure, a former monument to the Habsburg dynasty.
Going back to my time at Tivoli Gardens in Copenhagen, I've always loved the idea of a Christmas market placed within an amusement park setting. Booths selling candy and other sweet things predominated the market around the Riesenrad, clearly signalling this was more for children. For adults and movie lovers, ride the famous Ferris Wheel that has been featured in multiple films, most notably 'Before Sunrise' and 'The Third Man'.
St. Stephen's Cathedral had a nice market around its perimeter, and also has an ornate roof with thousands of tiles depicting a variety of designs. A historical wonder, this is where Mozart got married, and where his children were baptized.
When you gaze upon the the five towers extending into the Vienna sky, that must mean you're at the Rathaus. It's hard not to admire the amazing architecture of this city hall building. Inspired by Flemish design, it resembles what you might see at the Grand Place in Brussels. The Christmas market consisted of more than eighty booths spread out in front of the Rathaus, and also had an ice-skating track and a giant Sno-globe.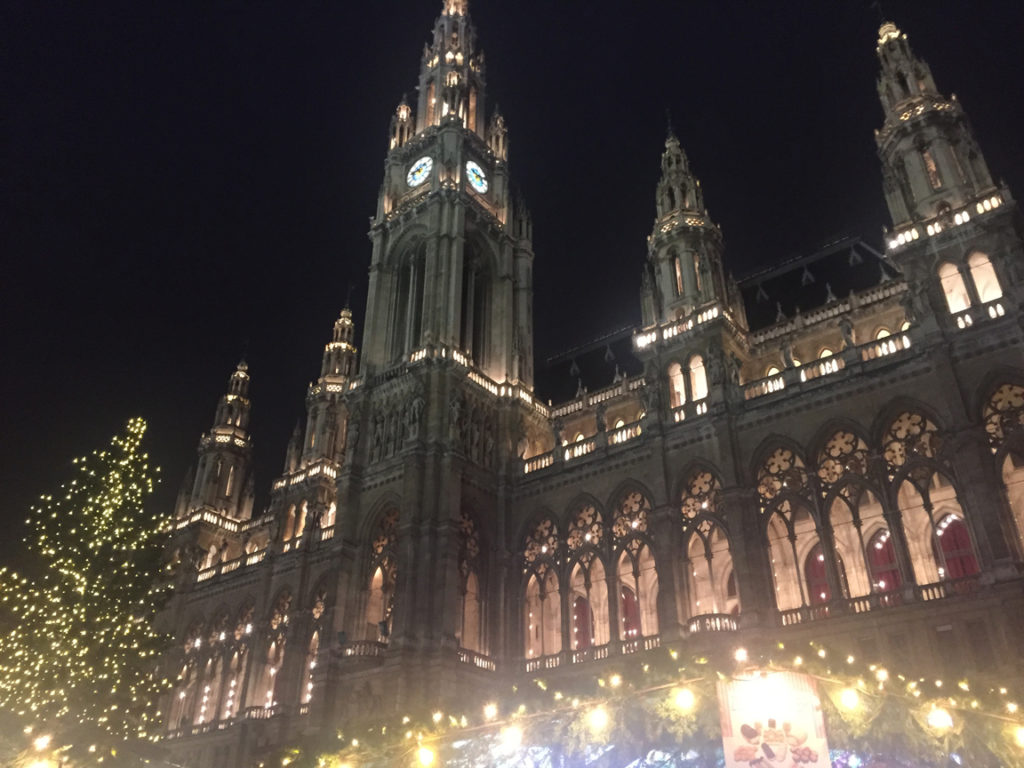 For museum lovers, consider checking out Rudolf's art collection on Christmas…not the reindeer, but Emperor Rudolf II. He significantly contributed to Austria's national collection displayed at the Art History Museum, called the Kunstkammer, or 'cabinet of wonders'. Rudolf consolidated these treasures within the Prague castle in the early 17th century, only to see much of it plundered by the Swedes. What remains – paintings, tapestries, and irreplaceable relics – is on display here in impressive fashion.
I walked down the busy streets of Vienna late one night, and witnessed some beautiful street music. At that moment it felt so much like Christmas.
How to get there: Vienna is a 2.5 hour direct train ride from Salzburg, 3.5 hours from Bad Ischl (one change), and it also has a major international airport where budget airlines like EasyJet operate from.
Where to stay: Motel One is a perfect lodging option, as it's situated nearby the Karlsplatz train stop, and is a short walk into the main city centre. They also have a large selection at their breakfast buffet, and unbelievably have a bar on-site that's open 24 hours. The rooms are classy and modern, and the prices are only slightly above those of a budget hotel.
Where to eat: Danieli is where I enjoyed one of the finest pizzas since my return to Europe, and also has a fine selection of various other Italian cuisine.
Some closing Christmas thoughts on Austria…
-December in Austria is COLD! Wear more than two layers of clothing, and consider buying those gloves that allow you to still use your iPhone…removing a glove in this weather for even a minute can be numbing.
-Austrians celebrate Christmas on December 24th, so it's best to be in Vienna, as they have more restaurants open. Reservations on the 24th are an absolute must, and should be made two or more days in advance.
-Vienna is also a great option as most of the main sights there are open on the 24th and 25th.
-Austria celebrates St. Stephen's day on the 26th, so don't expect everything to be running at normal speed immediately after Christmas.
-For wine drinkers, take some time sampling the Austrian white wine. In my opinion it's better than French wine, and only a notch below Italian.
-The tap water is amazingly good, especially in the mountains. Bottled water isn't necessary in towns like Bad Ischl.