5 Off-Beat Attractions In Rome
1 Feb,2017 By Jagabond
When you think of Rome, you think ruins and religion. Most visitors stick to the standard list of attractions on their first trip to Rome, but what about the second or third? People can remain on the beaten path, and risk the typical sights losing their shine. If you experience certain symptoms – e.g. cursing the lines of tourists outside the coliseum, mumbling under your breath that all churches look the same – you may want to add some variety to your itinerary. Try these off-beat ideas!
1. Show some Cattitude!
"Et tu Brute? Then fall, Caesar."
Those words depict the final moments in the life of Julius Caesar, murdered by what we'd call a military coup these days. Shakespeare made his life more famous with his play featuring the quote above, and archaeologists made news in 2012 when they reportedly found the site of Caesar's death…within the Largo di Torre Argentina. In the 2,000 years since Caesar's death, this square has morphed from Roman cultural hub into a…cat sanctuary?
Strange, isn't it. It turns out that cats in Italy have it made. Per a law passed in the 1990s, stray cats have legal protection throughout the country. This has led to feline communes where cats can roam free, and there is none more famous than the cat sanctuary in Rome, situated unintentionally where Caesar breathed his last breath.
This sanctuary is effectively a no-kill shelter, as the law prohibits the killing of stray cats. Hundreds of cats now live within the ruins, and volunteers tend to their needs, while also working to sterilize the stray population throughout Rome. Visitors can walk through the facility and observe all the happy and content cats, who were warm inside on the cold November afternoon when I visited. Want to save a cat from the fate of haunting Caesar's ghost? Visit the sanctuary's adoption page here.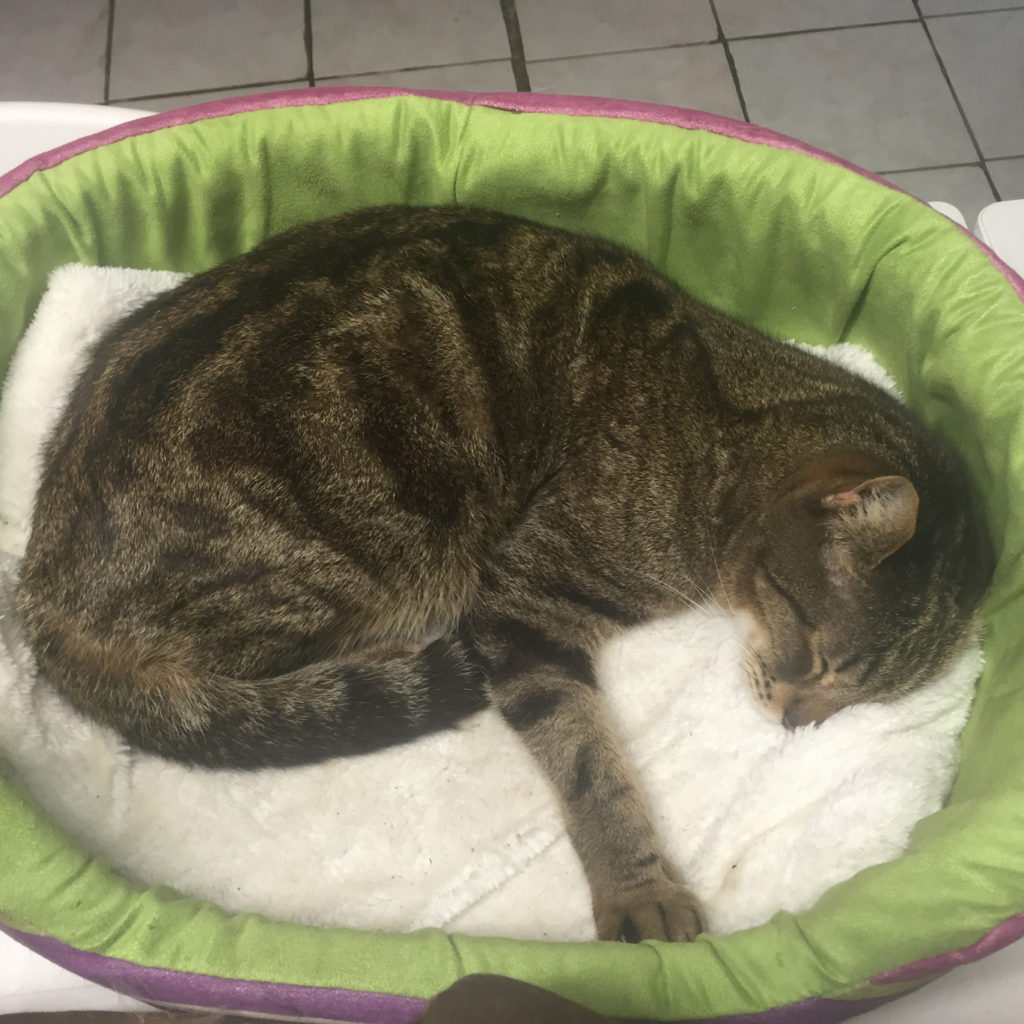 Still haven't satisfied your feline curiosity? Then visit the aptly named Romeow cafe, a restaurant where you can eat while watching a pack of cats run around. The food attracts the ultra-healthy or dietary-restricted, with its all vegan menu, organic wines, and gluten-free options. I enjoyed cabbage rolls stuffed with pumpkin and covered with raspberry sauce (tasted as good as they looked), while observing the antics of the cat jumping overhead.
2. Street food tour
You walk the streets of Rome slowly, often due to massive crowds, making it sometimes overwhelming to explore the outdoor marketplaces in a relaxing fashion. I have experienced many authentic restaurants in Rome, but have also found ones corrupted by tourism. Is relying on TripAdvisor the only answer? Enter Rosaria, an intelligent and vivacious woman who runs the street food tour of Rome…find it here. She acted as an outstanding guide as we traversed the busy streets of Rome and she highlighted over the course of a few hours the cuisine that made the region famous.
We met in Campo de Fiori, at the Bruno statue, which commemorates a Free Mason who was burned at the stake for heresy back in 1600. Starting here at the outdoor marketplace, she had arranged tastings for various things such as black and white truffle spreads, pecorino and parmigiano cheese, and olive oil. I absolutely loved the bite-sized sun dried tomato chunks…I could've gone through an entire bag of these!
Next she took us to the ruins of the old Pompey Theatre. She explained with wit her view that Rome was like a historical 'lasagna', in reference to archaeological excavations constantly peeling back the passage of time. Upon discovery of the theatre ruins, an entrepreneur came up with the idea of opening a restaurant within, which had a very romantic vibe to it. There was even a scene from 'Eat, Pray, Love' filmed here.
Pizza is unarguably the king of Italian food culture. Our next stop was Antico Forno Roscioli, a family owned bakery that has been around since the early 1800s. In addition to the outstanding pizza, many locals consider here to have the best focaccia bread in Rome.
The deep-fried artichokes from the Jewish quarter were one of the highlights. They were presented beautifully and tasted much better than your typical deep-fried item, and would likely do well as pub food served with a side of ranch dressing.
There's much more, but I'm not going to spoil the rest. Contact Rosaria and experience this amazing tour!
3. Video game museum
A world famous video game museum in Rome? Why not, I guess not everyone can be a lover of history. After you've seen the Trevi Fountain for the hundredth time, maybe a few hours playing 'Assassin's Creed' sounds refreshing. I grew up on video games, and although I don't play them anymore, I still consider them a fond part of my past. I was very impressed with the layout of this museum, and the nice balance between historical presentation and interactive exhibits, which mostly included old video games you could play likely for the first time in many years.
The history of video games is laid out well, from the first concept called 'Tennis for Two' in 1958, to 'Spacewar!' the first real video game developed in 1962 by an MIT student which also became the first coin-operated video game in 1971. A game called 'Death Race', released in 1976, was the first to cause public controversy and concerns about inciting violence. The object was to run over skeletons fleeing from a cemetery, though with the graphics at the time the skeletons barely looked humanoid. Media outlets even reported on the controversy, and I chuckled thinking about how much times have changed.
I loved their focus on the text-only games of the late 70s and early 80s, particularly the 'Zork' display, a game I remember happily wasting many hours on. There were no graphics, as you just typed in simple commands like 'go east', 'open door', 'pick up sword', or 'fight troll'.
The video game industry crashed in 1983, due to industry complacency and consistently poor products. The shining example of this was the disastrous release of the E.T. game, which was worthy of its own exhibit here. The game suffered from a rushed release in an effort to capitalize on the success of the movie. Consumers complained of poor functionality and laughable graphics, even for the time. The concept of the game involved E.T. running around looking for the parts to a phone, so he could 'phone home' to the mother ship, all the while avoiding a policeman and researcher who were chasing him. Even typing that sentence wasn't fun, so I can only imagine how boring the game was.
The legend of this game resurfaced a few years back, when a 'mass grave' of E.T. games was found buried in New Mexico, presumably by the developers. Shown below is a relic from this excavation that is on display, together with a certificate of authenticity.
It was easy to spend a few hours here, walking down memory lane and looking back on those easier, childhood times. The write-ups next to each of the exhibits were both informative and fun…take note of the following description of 'BurgerTime', and ask yourself why there hasn't been a movie yet!
"In the frenetic platform 'BurgerTime', cook Peter Pepper has to make gigantic hamburgers dropping all the ingredients in the direction of the plate. Such foodstuffs could annihilate the implacable followers of our alter ego – a great big sausage, a fried egg, and a cucumber. Another weapon used by Peter Pepper is the sprinkling of chili, able to paralyze his enemies, even if only for a few moments."
It was hard not to smile at the promotional posters they had on display…my favorites were the ones for Ms. Pac Man and Q-Bert.
For video game fans of all generations, this museum is a must see. It's called Vigamus, and is only a short metro ride from the city centre. More details can be found here at TripAdvisor, along with some stellar reviews.
4. Reject the pizza/pasta
Not for the whole trip, but maybe a meal or two to mix things up. This isn't easy, as 147 of the top 150 restaurants listed on TripAdvisor are classified as either 'Italian', 'Pizza' or 'Mediterranean'. I tried one of the other three from the top 150, ending up with reservations at Hari, a highly reviewed sushi restaurant. This is definitely not just for raw fish lovers, as they have an extensive non-sushi menu including other Japanese, Chinese and Thai dishes. My stomach was pleased with my choice…the salmon and shrimp tempura roll topped with rocket lettuce.
5. Check out the metro street art 'museum'
Readers of my blog know I'm a street art fan, so I couldn't resist when I heard about the art exhibit on the Rome metro. I figured that locating art within an urban metro station would give it a grittier feel, and I was right.
There are two main locations for the metro street art. The first is a collection of various works at the stops along the Metro B line from Termini ending in Rebibbia. As part of the Urban Breath Project, five street artists were commissioned to each paint at one of the Metro stops, and some highlights are shown below.
The other location is the main station near the Spanish Steps, Piazza di Spagna, which has its own separately commissioned street art project. It even included a glorious depiction of Pope Francis.